Surprisingly, rabbits are not as popular on our tables as poultry. Perhaps the creature's friendly plush side has something to do with it. Probably the fact that they are protected from exploitation of their fur or wool (angora), and that they are pets for some of them, does not help the French to also consider this meat as a normal option. So much so that this big-eared meat makes up just over 1% of all meat consumed in France. And even though only 1% of the 40 million individuals produced are grown outdoors, but the rabbit farm (yes, if it is called that) is organized to improve the quality of the product while improving the living conditions of the animal
A responsible sector committed to an active process of progress is in any case what CLIPP (Rabbit Interprofession) provides. Farm productivity, animal health and animal welfare are the targets clearly targeted by the French rabbit industry with the "Le Lapin s'engage" approach to progress. The sector works to develop agricultural practices, pest control, nutrition, food quality and safety. With such a progressive approach, the entire sector strives to offer consumers French meat of very high quality. French rabbit farms are among the least dense in Europe (400 rabbits per shop versus 900 in Italy and 500 in Spain), not to mention China's rabbit rearing conditions which can be as high as 10,000 rabbits per shop. …
The rodent accumulates nutrients, in fact, it can naturally become an ally of the well-known good decisions of the beginning of the year, and even if they only last a few weeks, at least during this time we will enjoy.
Decision #1: Yes, I can hold the line.
Like chicken or turkey, rabbit is a lean meat that, depending on the cut, contains 4 to 10% fat and 120 to 160 calories per 100 g. In addition, its white and firm flesh is rich in high-quality proteins (20 up to 21 g/100 g), which give it a strong saturating power.
Decision #2: And eat meat without guilt.
In addition, its lipid profile is interesting for the body. Its content of saturated fatty acids is lower than in other types of meat, and the content of unsaturated fatty acids (good fatty acids), in particular α-linolenic acid, a precursor of omega-3, is higher than in other types of meat. Allied with shape and youthfulness, rabbit meat also contains remarkable levels of vitamins E, B (especially B3 and B12) and selenium. All health, in short.
Solution #3: I stop worrying about it.
With pre-cut rabbit pieces, the headache is behind you! You choose a piece (saddle, tenderloin, thigh, gigolet…) and prepare a simple and delicious dish in no time. With all possible preparations and cooking methods (papillota, kebab, casserole, oven, etc.), you can make it according to your desires, your culinary skills and the time you have.
Resolution #4: I support a responsible sector.
Through its "Involving Rabbits" approach to progress, the French rabbit industry is constantly working to improve breeding conditions, animal welfare, drug reduction, etc. Purpose: to offer very high quality meat. This deserves our plebiscite.
Decision 5: I'm preparing a new product and impressing my friends.
No more grandma's recipes, with the rabbit I invent and surprise because he has more than one recipe in his hat! An exotic version curried with spices, dried fruit, mango or coconut milk, a light version cooked on the grill, in a wok or in foil, on stone grills or on skewers, and even a trendy version as appetizers, nuggets or profiteroles. Nothing complicated, everything suits him!
 
Rabbit papillota with lemongrass and early vegetables, coconut curry sauce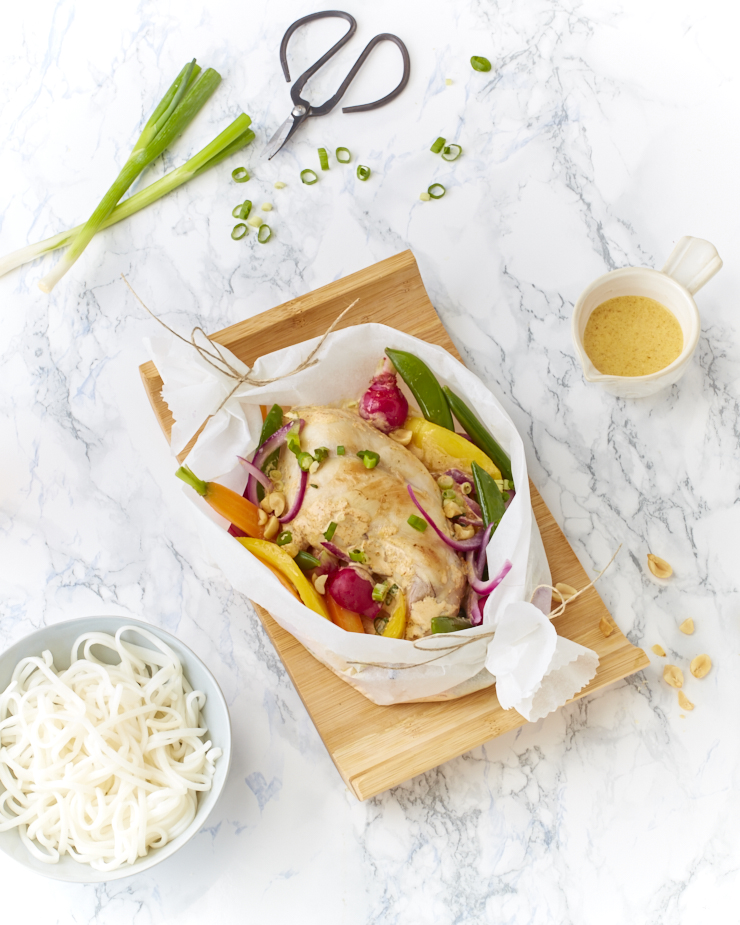 CLIPP-S'CUIZ IN
Prep: 25 min – Cook: 45 min
For 2 people
2 rabbit legs
Vegetables: 3 small new carrots – 3 small young red turnips or 5 round red radishes
¼ red onion – 1/2 mango – 160 g green peas
200 g boiled rice noodles
1 lemongrass stick
200 ml coconut milk
1 C. coffee curry paste (sweet) or 1 tbsp. teaspoon curry powder
2 tbsp tablespoons lightly crushed roasted peanuts
2 onions or 5 onion sprigs
salt
Finely chop the lemongrass stick. Combine coconut milk, curry paste, lemongrass and lightly salt.
Peel the carrots and cut them into 2 or 4 pieces depending on the size. Cut the turnip or radish into 2 pieces. Peel and chop the red onion. Peel the mango and cut it into strips.
Preheat oven to 180°C.
Salt rabbit legs. Prepare 2 large sheets of parchment paper. Add carrots, turnips or radishes, peas, red onions, and rabbit feet. Drizzle with curry sauce and sprinkle with peanuts. Close the papilottes and bake on a baking sheet for 45-50 minutes.
Serve with rice noodles and green onions or chopped green onions.
Sentence :
In a skillet, brown the rabbit legs in peanut butter on both sides before placing them in the foil. Reduce baking time to 40 minutes.
Keywords: rabbit breeding rabbit breeding – quality meat – CLIPP