Huang Huang, a female panda lent by China to the Zoo de Beauval in Loir-et-Cher, gave birth to two healthy cubs on the night of Sunday 1.uh from August to Monday 2 August. Two little plantigrades arrive to enrich the Beauval panda family, already strong thanks to their father Yuan Zi and older brother Yuan Meng, born August 4, 2017.
Both babies are pink. Both are in perfect health. (…) They are great"– responded the president of the zoo, Rodolphe Delors from the Panda Breeding and Rescue Center in Beauval. "The first ten days is a sensitive period, but two babies, two little girls are a priori strong, and Huang Huan's behavior is much better. She has the gestures of a good mother. This is a good birth."appreciated the zoo's chief veterinarian Baptiste Mulot, who will not be able to determine with certainty the sex of baby pandas for several days.
They are 2 little girls! 🐼🐼 Those born at 1:03 am and 1:10 am weigh 149 and 129 grams! 💕… https://t.co/PR0ZdzLfRx
Weight "in the high range"
Juan Juan's first signs of anxiety appeared around 5:30 pm on Sunday, alternating between activity and sleep, the waters finally breaking at half past one before giving birth to the cubs at 1:03 am.
A caretaker from the Chengdu Giant Panda Research Center, who came specifically for the birth, managed to take one of the panda cubs to provide care and put him in an incubator. He weighed 149 grams, weight "very reassuring" for a newborn panda. "The bigger they are, the less fragile they are. They are in the high range because they should be between 100 and 150 grams at birth.the vet explained. The second little female, who spent a little more time with her parent, weighed 128 grams.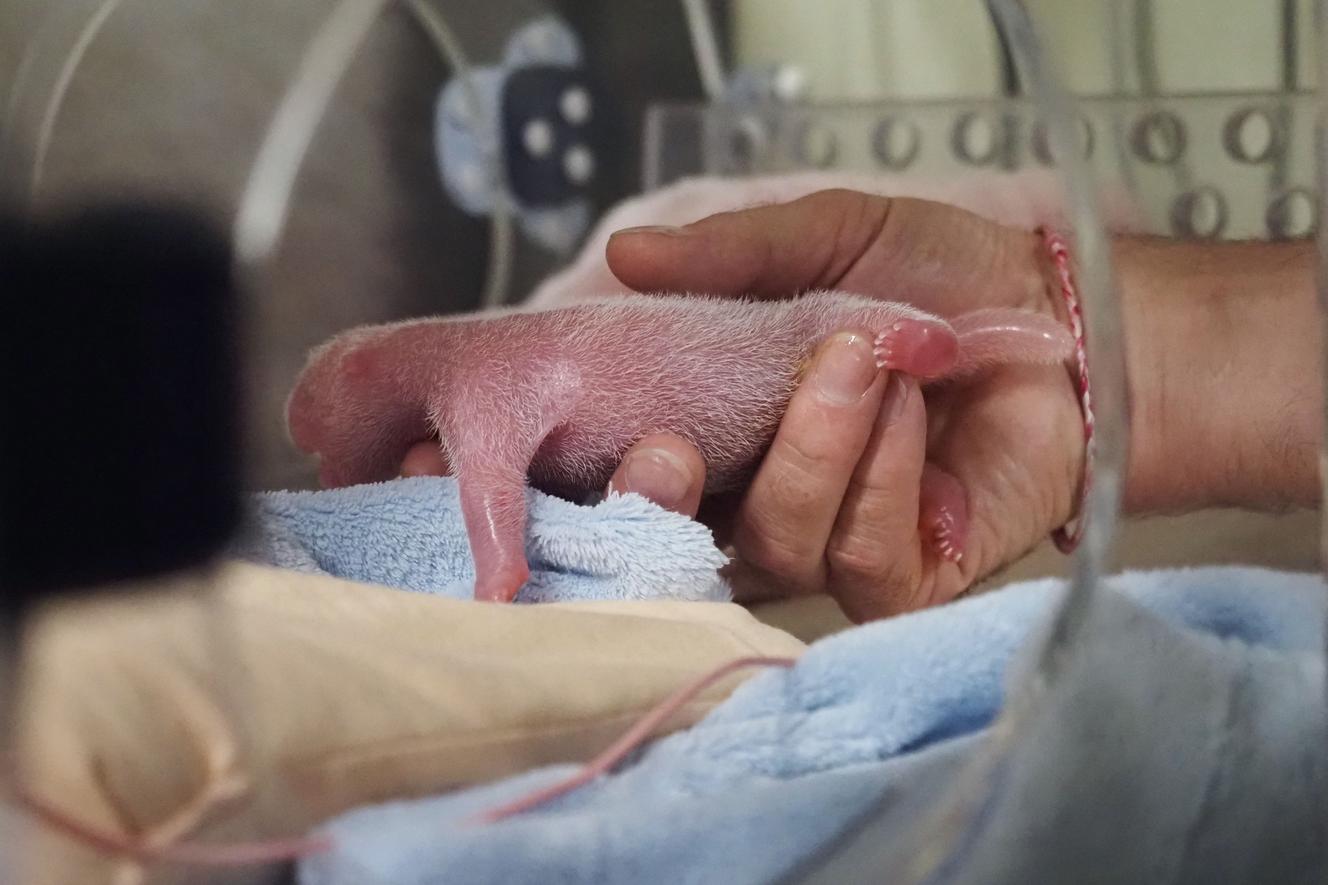 Now the guardians will have to monitor the health of Juan Juan and regularly alternate babies with mothers. "They will be placed in an incubator and they will take turns suckling their mother. They will be followed 24 hours a day before the public can see them in a few weeks."said the zoo president.
Read also
Panda, Chinese soft power ambassador
Choosing a name, the prerogative of the first Chinese woman
At the end of March, two giant pandas, Huang Huan and Yuan Zi, one of Beauval's main attractions, attempted to mate. Artificial insemination was also carried out as a precaution, since the female was only fertile for a period of twenty-four to forty-eight hours a year. It was with this technique that Juan Juan gave birth to her first twins, only one of which proved to be viable. Now the 4-year-old first panda born in France weighs over a hundred kilograms.
No more giant pandas since 2016 " in danger " species listed in the Red Book of the International Union for Conservation of Nature (IUCN). However, the view remains "vulnerable"while 500 pandas live in captivity compared to 2000 in the wild in China.
Two newborns from the Loir-et-Cher will not receive their final names until a hundred days later. Traditionally, they will be chosen by the First Lady of China. These genera are part "panda diplomacy". China, which loaned Yuan Zi and Huan Huan to France for ten years in 2012, uses its friendly bicolor bears as a symbol of friendship with other countries.
Read also
Article reserved for our subscribers

In China, panda protection policy has not benefited other species