Bullfights are very popular in Thailand, as well as in Malaysia and Vietnam. Hailing from the south, they often take place in archaic arenas and in fairly basic hygiene and safety conditions.
For the first time in the Land of Smiles, modern solid arenas with a capacity of 5,000 seats have been built in Sukhothai. They have individual stables with adjoining room for owners or caretakers from other provinces.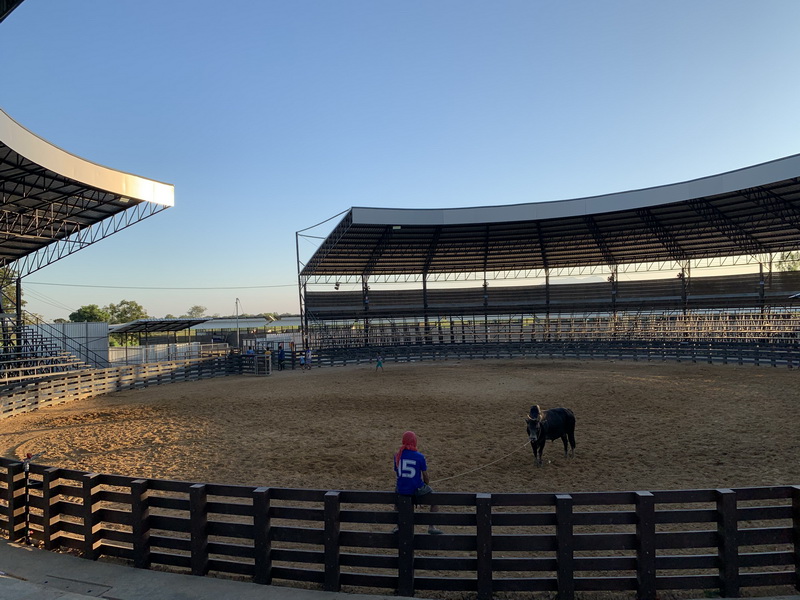 Operating since the beginning of December 2021, they were officially opened by the monks on January 2. The most amazing thing is that bets are officially allowed there. The ticket price for the show is 700 baht (about 18 euros).
There are two shows, one in the morning with six fights and the other in the afternoon (same). Fights last two days (Saturday and Sunday) and take place every two weeks. There is no killing, and bulls, like boxers, can be used again.
Categories differ according to the weight of the zebu, from 350 to 520 kg, five years of age. Two bulls fight head-on. Whoever gives up after a few games loses. For their training, the guards, as can be seen daily on some country roads, make them run 5 to 8 km every morning in the cool.
As with racehorses, a champion can be sold for a very high price: 2 million baht (52,632 euros). Bets are in place, they can reach 600,000 baht (15,789 euros) for one bull! After a few days and 12 fights, the stakes, according to the organizers, sometimes reach 20 million baht (526,315 euros) in one day!
Prizes to winners are paid in cash ranging from 60,000 baht (1,579 euros) to 4 million baht (105,263 euros) or in kind: cars, motorcycles, agricultural equipment, etc.
The icing on the cake: it costs 300,000 baht (7,895 euros) to fight a champion in any category for the groom, who will have to pay this amount to the organizers before the fight.
As in boxing, there is a mandatory weigh-in before the fight. This is the topic of the first column.
PS: as promised, here is the answer to the question asked during the rubric " Natasha, exotic fragrances ". : There are 24 fruits mentioned in this poem.
To learn more about cattle breeding in Thailand, I recommend reading " Van Prachop, beef is popular "published Newsboy March 18, 2021
Good reading.
Frozen under the sun, waiting to be weighed
It was manifested by long furs,
raucous and repetitive. He was impatient
His hooves scraped the ground, massive and restless.
The fighting bull is waiting for his turn
With another zebu, pulling on the ring
Bow, whose rope held him on a pole:
His five hundred and twenty kilograms overlapped by themselves, without words …
As for professional boxers, the category
Depends on weight, earnings and fame.
He is a champion. He will be selected.
Its owner was confident, confident.
On this beautiful Sunday, the fighting bulls
Came from all over Thailand.
Rookie candidates or legendary winners,
Everyone hoped to win the next tournament.
In the vast territories adjacent to the arenas,
Animals were examined, evaluated, weighed.
For "Panda" this is his name, a mere formality,
Since he's already won a dozen
Sometimes. Because there is no murder here.
Two excited bulls attack each other in the forehead,
Who gives up, he loses. Winner,
The loser will later challenge the other leaders.
Its owner lives in Sukhothai.
He owns several bulls as "keepers".
Run on the roads every morning
Prepare them for future battles.
"Panda", which is worth gold – ten thousand euros.
In the local market – generates bids
Exceeding this amount when luck smiles.
Thus, everything is done to protect the hero.
In the majestic arenas of Sukhothai,
which can accommodate five thousand spectators,
Bets are allowed, big bets
For the life of the bulls in this fair arena.
Because the road is long to become a champion.
And it's expensive. Panda is one of them.
On Saturday there will be a new fight,
Brave and noble: of course, a great thrill…
Michael Hermann
Get Gavroche Hebdo every week. ATscenariosee you by clicking here.