The Omicron BA.5 sub-line is growing rapidly in France week after week. Identified in early April, it appears to be causing more symptoms in patients, but no more hospitalizations.
For several weeks now, the number of cases of Covid-19 has been rising again with an increase in the number of cases of Omicron BA.5, which is gradually replacing the BA.2 that has so far been dominant in France. This increase signals the arrival of the 7th wave in France, even if its impact on health is not yet known.
"The question is, how strong is the wave?", launched this Wednesday on France 2 Alain FischerChairman of the Vaccine Strategy Advisory Board.
Subline Omicron BA.5 was identified in early April 2022 in South Africa along with subline BA.4. As such, it has only been observed and analyzed for two months, which still leaves a lot of room for guesswork even if trends emerge.
"Anosmia and ageusia, as well as nausea, vomiting and diarrhea"
In their latest risk analysis of Santé Publique France (SPF) options notes a stronger likelihood of having symptomatic disease with these variants. "The incidence of anosmia and ageusia, as well as nausea, vomiting, and diarrhea, was higher for BA.4/BA.5 cases compared to BA.1 cases," the organization writes.
"Cases BA.4/BA.5 also reported a longer duration of clinical signs."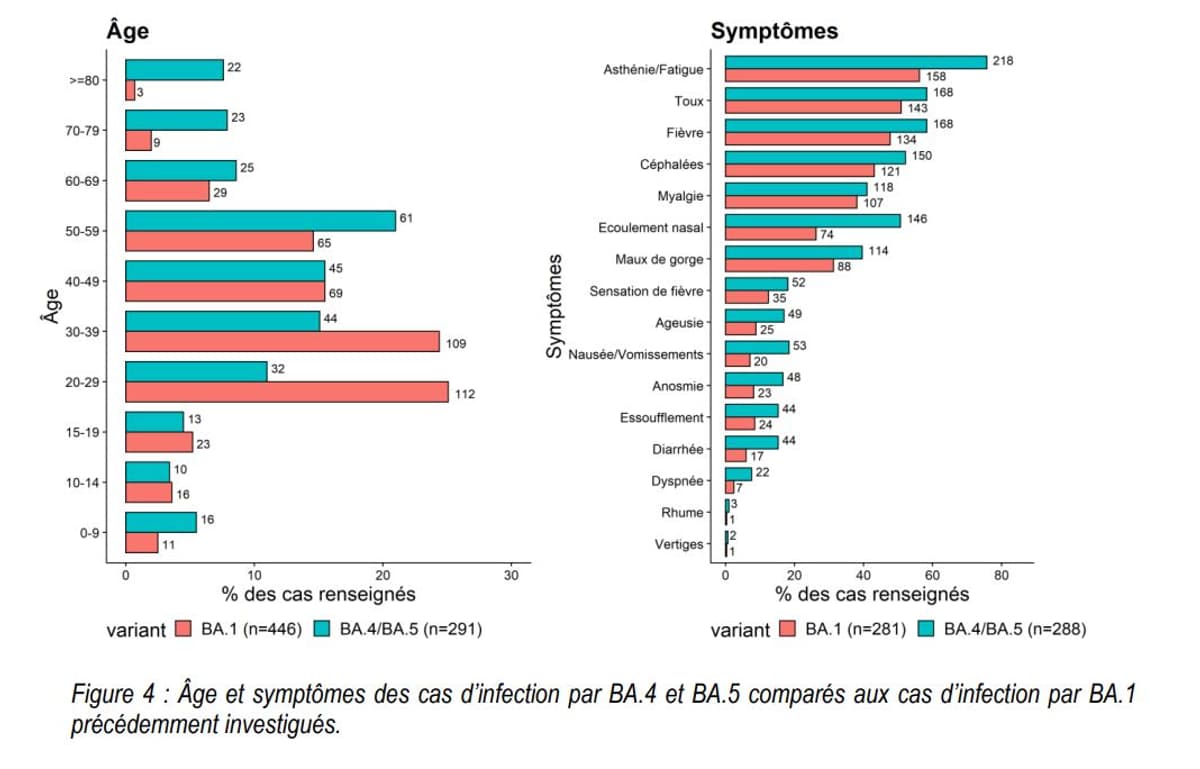 However, "hospitalization rates were not significantly higher for BA.4 and BA.5 compared to BA.1, and there were risk factors in most hospitalized cases."
If those affected have statistically more symptoms of Covid-19 than with previous Omicron sub-options, they are not necessarily more likely to go to the hospital, which is currently seen in the "epidemic" numbers.
"Every day there are more cases, but at the moment this does not lead to a significant increase in the number of hospitalizations, not to mention the number of deaths. But we know that there is always a backlog," recalls Alain Fischer.
Thus, a preliminary study in hamsters published in May indicates a potentially greater severity of sub-variants BA.4 and BA.5, in part because they appear to promote infection of lung cells rather than respiratory tissues. "But these results should be taken with caution," the SPF notes, because "the hamster model is difficult to transfer to humans."
"There were no signals in terms of severity"
"To date, there is little data on the performance of BA.2.12.1, BA.4 and BA.5," emphasizes the SPF, then adding that at the moment "no signals in terms of severity have been reported for these three sub-lines, and studies of cases BA.4 and BA.5 by the French Public Health Service are moving in this direction.
Observations from South Africa and Portugal, where the peak of the epidemic has already passed, also give some observers reasonable optimism about the increased risk of hospitalizations and deaths.
On the other hand, the SPF notes that BA.4 and BA.5 are "genetically closer to BA.2 than to BA.1, and therefore previous BA.2 infection may provide better protection." Thus, the sustained spread of BA.2 in recent months in France could "have a protective effect on BA.5 and further mitigate its impact".
"Based on limited data, there is no evidence that BA.4 and BA.5 are associated with increased infection severity compared to BA.1 and BA.2," writes ECDC (European Center for Disease Prevention and Control). ) in the report dated June 13, 2022. "However, as in previous waves, the overall rise in Covid-19 cases could lead to more hospitalizations, intensive care unit admissions and deaths."
"We have to take care of it"
At the moment, the real concern about the spread of BA.5 in France is really related to its high contagiousness. This variant "represented 24.2% of interpretable Flash sequences" in the week of May 30 to June 5, "up from 13.3%" in the previous week, writes SPF. And even if this option does not seem more virulent, if it quickly spreads to many people, it will mechanically increase the number of patients in the hospital.
"It's not more serious than the other Omicron BA.1 or BA.2 options, it's on the same level. But there are more cases, so we have to deal with it," emphasizes Alain Fischer. "When there is a wave, there is a certain warning signal, because inevitably some of the infected will end up in the hospital."
Especially since healthcare professionals have warned of a shortage this summer that could quickly lead to oversaturation of some services if hospitalizations rise. Therefore, health authorities are urging respect for barrier gestures and vaccinating the most vulnerable to avoid serious cases.
"We are vaccinated, we have a strong collective defense, we know the variant that is in circulation, we know the means of protection against an outbreak of an epidemic – a mask, barrier gestures … – the French know everything," said former Minister of Health Olivier Veran in this Wednesday on BFMTV/RMC said he was not "overly concerned" about the matter.

Salome Vincendon BFMTV journalist