>>In your favorite paradise
>>The pet trade is booming
The hamster is both playful and interesting to watch.
Photo: Phuong Nga/CVN
Very beautiful, interesting to watch, inexpensive to buy and maintain. These characteristics make the hamster an ideal pet. This rodent is robust, with a tail slightly shorter than its body length. He has a cute face, small noses and ears, short legs and wide feet. Its thick fur can be black, grey, white, tawny, brown, yellow, or even reddish. The underside of its body is white with shades of gray and black.
Raising a hamster at home
"A hamster is smaller than a dog, cleaner than a cat, and much more alert than a fish. It's perfect for apartment living."says Nguyen Xuan Long, 13, who lives in the Cau Giay district of Hanoi, after raising several pets. "I have two hamsters that I bought three weeks ago. They are an endless source of entertainment for those who love to watch them"he considers.
Once a week, he accompanies them to the shore of a lake located in the city of An Binh in Cau Giay to share the experience and give his cute creatures to friends.
The hamster is very sensitive to sounds such as crying and prefers to be looked at rather than touched.
Photo: Phuong Nga/CVN
Carrying his hamster in his arms, Tran Van Son, a graduate of My Dich College, admits that this little rodent has requirements for a place to live and an owner. "It's best not to leave him in an almost empty cage. He needs to move, explore, play and nibble", he said. And in continuation: "A hamster is a lot of fun, but also a job. As a caretaker, that's your responsibility. It's entirely up to you.".
Some websites (http://vuongquocchuothamster.com, http://chuothammsterhanoi.com, http://permart.vn) offer many types of hamsters, such as Campella hamster, Russian hamster and Roborovski hamster. The price varies from VND 50,000 to VND 300,000 depending on the age, beauty and rarity of the animal. Russian hamsters and Campell's hamsters are the most affordable – about VND 50,000.
Like many parents, Nguyen Thi Ngoc Khan, 42, gave in to his child's pleas for a pet. "My son is fond of domestic rodents and dreamed of having a hamster. For his 12th birthday, we gave him a hamster along with a cage. He was overjoyed for a whole week."she recalls.
According to her, this little rodent can give a lot to children who learn to take responsibility for caring for a living creature, to treat it with respect. In addition, his coat very rarely causes allergies.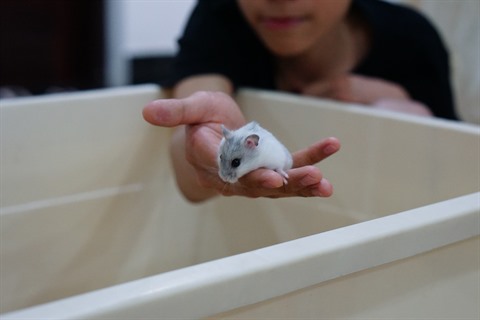 The hamster is ideal for keeping in an apartment.
Photo: Phuong Nga/CVN
"The two drawbacks are a short lifespan, about three years, and incompatibility with young children, who rarely know how to handle them safely.", says Ngoc Khan. The hamster does not like being squeezed and stroked. He is very sensitive to sounds such as crying and prefers to be looked at rather than touched.
The hamster feeds mainly on seeds. But he also likes vegetables, fruits or tubers, especially carrots. The latter allow him to make his teeth, which grow throughout his life.
Assessing his health is one of the important elements when choosing a hamster. A healthy pet has a thick, clean coat without dandruff, scabs, or areas of flaking. His eyes are wide open and clear, and the coat around them is completely dry and without the slightest crust or discharge. His nose should be clean, without any traces of discharge.
.