Published in05/11/2021to13:35
You like challenges and long distances. The classic hamster is made for you! According to the program, 400 kilometers offline along the Vosges and Black Forest massifs.
Before you type in your keyboard to try to sign up, you may also be promptly warned that the 2021 release is over.
We still bring you this hike like no other, which is first and foremost a family affair. Nicholas is the creator, but as he likes to point out, "This hike is not my personal creation: Anais, my partner, is a co-author, and she has accompanied, encouraged and supported me at all stages of thinking since the appearance of the first edition, without her there would be no Hamster. » Not forgetting his brother Guillaume.
"Since 2020," Nicholas adds, "our team is also assisted by Tanguy Blasius (RDS member) who uses his webmaster skills in the service of the hike (creating a website, managing registrations, printing frame plates and patent documents). cards, implementation of a validation system via a smartphone).
Another friend: Chloe Janus (participant's wife) was also involved in creating the visual of the gapettes that we offered to the participants. When we told you it was a family affair…
Why a hamster?
Before going into details, you are probably wondering about the name of the hike: Classic Hamster. So what does this little animal do in the story?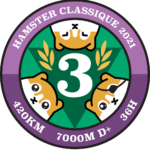 Let's get back to what interests us, a bike for long trips. For Randonneurs de Strasbourg, this is an opportunity to organize an event bicycle packaging to the attention of an audience more experienced on long journeys, or simply to open the way to discipline for motivated neophytes.
After several hesitation on the date following the health crisis, the third edition of this self-guided hike has finally been rescheduled for May 15 and 16, 2021.
On this special weekend, you will cover 400 km with 6000 m D+, in a maximum of 36 hours. Initially, the route was supposed to pass through Germany, but due to the pandemic and border closures, the organizers had to adapt.
The French Cycling Federation welcomes this initiative and supports this dynamic club. And Nicholas, to clarify: "The club itself is not very young, and despite exceptions like Tanguy and myself: the average age easily exceeds 50 years. But in fact there is an attempt to revive everything and the organization classic hamster is part of this plan. For information, the club was founded in 1968.
Meeting with Nicholas Schaeffer, organizer of Hamster Classique
What is your attitude towards cycling, how did you get started?
After several years of speed and performance oriented cycling, I accidentally discovered cycling tourism: a friend told me about the BRM concept and I really liked it, both for the good atmosphere and for the challenges. it represented.
Over the years I have seen my athletic practice change and I felt I was more in line with the concept of hiking than the concept of running and I preferred to ride my bike in a more relaxed and contemplative way without the "competitive spirit".
I see cycling as the centerpiece of my life, it's not just a way to stay in shape. Cycling allowed me to meet people and form strong friendships, and also allowed me to get to know myself better.
There is always something new to do and discover on a bike: new landscapes, new hikes.
One last thing, given that I love to have a good time, cycling allows me to really have fun without gaining too much weight!
Your event immediately found its audience. How do you explain this fascination with long distances?
Social media and word of mouth were invaluable friends in finding an audience for the first edition of Hamster Classique. Long distance is fashionable, it pleases.
The attraction of wide open spaces, a sense of freedom, being connected to your bike, and a more sustainable mode of transport. All this can explain the origin of this hobby, and we encourage it! There's a fine line between cycling on vacation and signing up for a distant event. We tried to share what we love: the landscapes of the Vosges and the Black Forest, good mood and cycling. As simply and honestly as possible, we invested in the creation of something similar to us.
Perhaps this is the recipe for success. Not forgetting the meetings and friendships woven in the effort.
You want to keep a family and intimate trip, what is this desire for?
The intimate and familial character is part of the Hamster Classique calling card. Hamsters are one big family!
Keeping the number of participants at 70 means that it will be easier for you to remember names, profiles, tales, stories. We can have a little chat with everyone, listen to their opinions and continue to improve the situation together. A person is an important thing that is easily lost among several hundred participants on the starting line.
Finally, if the event is related to this intimate aspect, it is also because it is important for us to welcome the arrival of the Brasserie la Merciere, and the latter is limited in terms of its capacity.
Route 2021
The start will take place on Saturday, May 15, 2021 at 8:00 am from Cycles Manivelle (4 rue de la Coopérative, 67000 Strasbourg).
The 2021 edition course will consist of six milestones to be completed in the following order:
– CP1: Hill 1000
– CP2: Field of Fire
– CP3: Col O de Ribeauville
– CP4: Col d'Hurbay
– CP5: Thatch from Serishamp
– CP6: Col de Pray
– CP7: Dabo Rock

Participants are expected on Sunday, May 16, 2021 until 20:00 at Cycles Manivelle. Arrivals open on Sunday at 14:00 and close at 19:00 (to comply with curfew).
Member Tracking
Note that the participants can be monitored in real time.
More information on the page: https://hamsterclassique.randonneursdestrasbourg.fr/tracking.html
This year registration has already been completed, but why not register next year?
All information at https://hamsterclassique.randonneursdestrasbourg.fr/index.html
Text: Jean-Pierre Giorgi – Photo: DR – Randonneurs de Strasbourg