In September 2021, when the phenomenon was already starting to take off, Panda Dynasty sold 8,888 special NFTs in 24 hours.
NFTs, these non-fungible tokens, have revolutionized the world of art and gaming. Completely unaware of what NFT was, a few months ago, Gabriel Mamou-Mani, then an artist and video game creator, jumped into the frenzy of NFT and gaming overnight to make money. A real success in the ecosystem, his collection and game Panda Dynasty is the epitome of the genre for any entrepreneur looking to get started. Indeed, it is not only a hype, but above all very precise codes and an ambitious strategy in which the community is the main pillar.
NFT and Treasure Hunt: Welcome to the Panda Dynasty Universe
NFT collections and games have been proliferating lately, with collections such as Bored Ape Yacht Club or Cryptopunks causing panic among the general public. The Panda Dynasty collection launched by Gabriel is one of the French designs of the year. be it the NFT or the "play to earn" universe he managed to create.
Each of 8,888 NFTs represent the panda which has features and accessories that make it unique. The project is currently developing in the field of crypto games, in particular through a treasure hunt game that allows panda owners to win keys to reach the treasure. This treasury is replenished by royalties collected on the secondary market; enough to make a virtuous circle.
This project will far beyond simple NFTs. Gabriel, its founder, also intends to evaluate the decentralization offered by blockchain to create a kind of digital sovereignty through the property offered by NFTs and the enthusiasm of the community without having to turn to tech giants.
We interviewed him to better understand what's going on behind Panda Dynasty, how he sees the evolution of the NFT market, and what lessons he draws from his experience.
Interview with Gabriel Mamu-Mani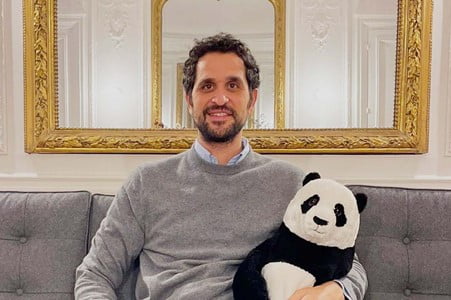 Gabriel, can you tell us about yourself?
A serial entrepreneur, I started my career in 2006 creating promotional video games for major brands. Then I got used to doing projects for the general public in small teams. There I developed two types of skills: content creation and the ease of forming teams of illustrators and developers; and marketing effectiveness. For example, I bought an ad space that I converted for boxes as an affiliate network.
How did you come up with the idea to launch NFT?
On August 15, a friend called me and offered to launch an NFT drop, although I did not know anything about it.
In 3 weeks, we created the entire project of the Panda NFT collection, which sold out on September 4th in less than 24 hours. We sold 8888 NFTs for 0.05 ETH each, for a total of around 400 Ethereum.
To me, it was the creative and emotional aspect of the fall of NFT that drew me in and made me decide to start. We have gone from DeFi entrepreneurs, finance to artists. This second wave is primarily interested in the emotional side, with a whole language and secret world to discover through Discord.
What is your biggest lesson from this first success?
Since the success of the first drop, we have been thinking a lot to the very definition of NFT, its usefulness, mechanism, values ​​and why people buy. If you look closely, you can see incredible collections like BAYC, but who knows why?
This is where I probably learned one of the best lessons: you have to create a strong intimacy, a very strong community that will involve and join others.
What are the best practices when starting an NFT?
Today, after 4 months of reflection and reflection, we aim to be like the Pokémon of the time or Magic cards. NFT gives ownership of a digital object. Today, people spend hours watching their Bored Ape yacht club, its evolution. Reminds me of statuettes of that time.
Therefore, it is good practice to recreate a whole creative universe around a series, a collection. Finally, apart from the purely artistic aspect, I would argue that NFT should tell a story. At Panda Dynasty, comics are created and written with the help of a community that we consult with on a regular basis. Also, The NFT drop consists of creating a story around the collection in order to have creative depth. We have also released a range of derivative objects (mugs, bags, promotional badges) to add physical objects to digital assets.
What is the use of NFT Panda Dynasty?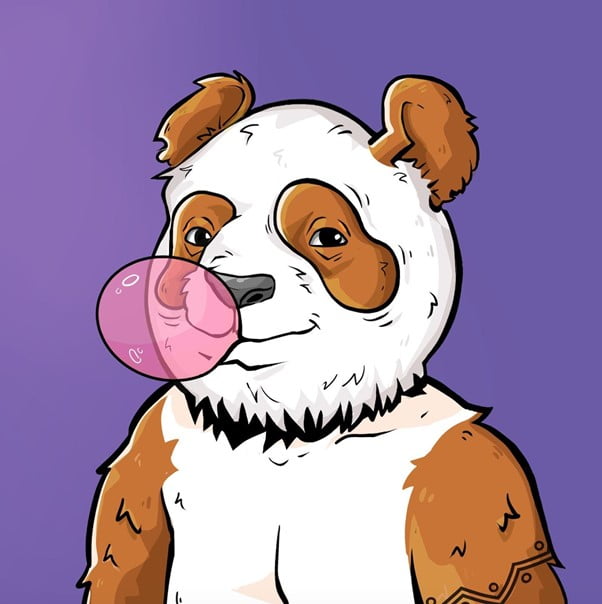 NFTs, in addition to being beautiful and all unique artworks, give access to the treasure hunt game, but also to project management. Panda Dynasty today is organized almost like a DAO, every week we present our development ideas to the community, which then has the opportunity to vote. This will give them access rights to the next drops and rewards.
They also have access to community wallet filled with royalties from NFT sales on the secondary market : in total it contains 5 ETH (about 12,000 euros) and about twenty NFT collections. By participating in the game, participants are eligible to access this offer, receiving a lottery ticket and a chance to win a treasure.
What treasure hunting game did you develop based on?
Our game is the equivalent of the Pokémon card game, which should allow us to interact with the community. This is a treasure hunt of sorts that is sent out every week to the community to let them win challenges to discover a treasure filled with royalties accumulated since the NFT sale began.
Thanks to a team of ten people, including an independent game studio, illustrator and developer Unity, Every week we invent new puzzles to keep our community interested and immersed in the Panda universe.
When you complete the stages, you get a panda pass: after 8 keys, you win a ticket that allows you, like in a lottery, to win tickets to discover the treasure. The panda pass can be a Halloween day pumpkin, a companion, such as a runaway.
You can reuse what you got in your treasure hunt to compete with others.
Why is the community the centerpiece of the NFT reset?
To me, the only thing you create by starting an NFT drop is a community. Moreover, we have hired 4 moderators who create parties, contests, every day 24 hours a day to revitalize this community. This is a long-term job in which there is no respite.
Today we are proud to present more 2000 super assets in our Discord.
How to purchase NFT Panda Dynasty Collection?
All NFTs in the collection were sold during the first drop, but they are available on the secondary market on OpenSea. For premium NFTs, they are in the Ethereum network and in Polygon for additional NFTs such as washing machines, which will be released soon.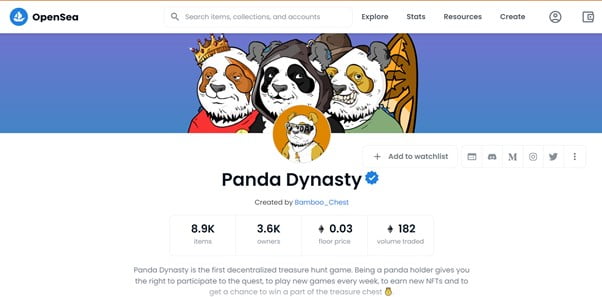 What is the long-term roadmap and business model?
In the roadmap we have for the coming weeks many games are launched allowing the community to compete and win passes.
If we originally started with the game to earn, we develop our strategy to introduce other drops that really allow us to earn income. The common denominator between BAYC, Sorare or even Axie Infinity is the creation of the imagination, but the essence of business is the fall.
Finally, we don't rule out a metaverse, which is an interesting possibility for sure, but it's more likely to be in event mode, like giant treasure hunt in the metaverse. We also work closely with game manufacturers.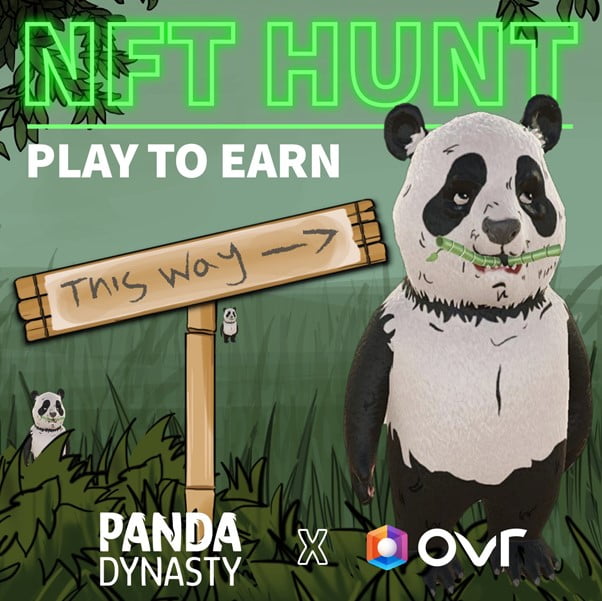 The last word?
The challenge ahead of us is to succeed in the second wave of marketing promotions with 70 NFTs that will continue to grow with available accessories. In a few weeks we will also be launching a fighting card game like Heartstone. The props will be weapons in the form of NFTs, which will be collected during the treasure hunt.
Soon you will be able to use your Panda Dynasty #NFT in our #PVP Card fighting game. 👀 Are you ready for battle?🐼🥊

Stay tuned for more info.#NFTGame #PlayToEarn #NFTs pic.twitter.com/e7pHa5Bng6

— Panda Dynasty (@PandaD_NFT) February 19, 2022
We intend to create even more utility for our pandas, in particular to participate in sweepstakes or purchase accessories such as a washing machine.
OVR is currently organizing a giant treasure hunt with prizes to be won, feel free to go and see by following them networks Social.
<< Читайте также: Exolis, решение, укрепляющее связь между пациентами и медицинскими учреждениями>>>